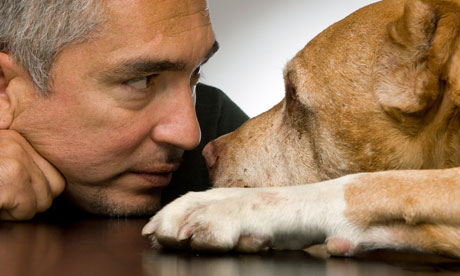 Cesar Millan with his dog. Photograph: Douglas Kirkland
A certain animal rescue seems to have a problem with this man's dog training methods.
This is something I can understand as there is, and has been for some time, a debate raging as to whether or not his way of training dogs is good or bad. I don't use or advocate his methods and believe everyone should be able to make their own mind up as to whether his methods are good or bad based on their own investigations.
However, the afore mentioned animal rescue seems now to be so blinded by their dislike of this man that the following extract from my previous post reminiscing about my dog Sym (which was cross posted on their forum) has been deemed "inappropriate" and "offensive":
Advice comes thick and fast and variety of training techniques are brought to your attention. And suddenly, as if by magic, every TV channel seems to be showing the latest Victoria Stilwell or Cesar Millan shows. And, whichever one's training methods you choose, you will end up being in the wrong camp and being told off by someone ... Stilwell is wishy-washy; Milan's techniques are cruel.
I fail to see how they could be right! Tell me if you can spot it!
There are other references to Cesar Millan on the forum, and at least one photograph, which seem to have slipped by "the Censor". Funny, isn't it?
Hell!
What do I know?
Maybe it's just me that isn't allowed to mention him!